New Alsace Conservation Club, Inc.
P.O. Box 302, Sunman, Indiana 47041
www.newalsaceconservationclub.com
501 c 4 not for profit organization, Inc.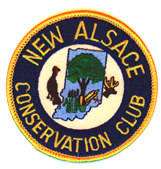 SUMMER CAMP FOR 5TH & 6TH GRADE STUDENTS
NACC is looking for 10 or more children in the 5th or 6th grade who would be interested in attending the Indiana Conservation Officer Organization – ICOO Karl Kelly Youth Conservation Camp.
Camp will be held this coming 2022 summer in June (usually the third week) for 7 days. NACC will select children who sign up by February 1, 2022. The cost of the camp is paid for by NACC. If your child, nephew, niece or grandchildren like outdoor adventure, this camp is a must for them. It is a full week of fun they will enjoy and remember for a long time.
NACC Contact Rob Seig for more info. robseig@seigsurveying.com 812-209-9099 . You can check out their website, www.icoo.com where you can view past information at this time and after the first of year, the new information will be available, as in the past.
Remember all registration must go through the NACC for us to pay. Providing the child's name, a contact person, phone number and e-mail address are essential to enter and complete our camp forms. You can also, e-mail NACC secretary, Dale Back at backdale@gmail.com for more info.
Thanks for your consideration,
Dale Back, Secretary
12-4-21